Wow so much has happened since my last post. (Warning…this is a long one)
Hmmm, let's see, I was about to spend the 4th of July and my birthday in Saratoga Springs. I was in a very nice campground if you don't count the humidity and the hoards of mosquitos. I think my OFF spray worked more like a magnet than a repellant and those little buggers timing was impecable. Just about the time my coals were hot enough to cook my dinner I'd be eaten alive and would give up and head inside. Unfortunately, there were hitch hikers that came in on my clothes. One night I was so fed up I sprayed down my whole bed and slept with just my eyes and forehead uncovered and when I got up the next morning I had so many bites my right eye was nearly swollen shut.  I looked like I'd taken a sucker punch. I got a lot of the swelling to go down with ice but I still looked pretty scary. I'm sure I freaked a few administrators and receptionists out, haha.
I drove on into Vermont and  continued to get eaten alive by squeeters, but keeping the eye on the prize forged on and had some great experiences at medical facilities there, New Hampshire and Maine. I camped near Old Orchard Beach in Maine over the weekend and since I'd never seen the east coast before took the trolley down to the boardwalk/pier. Quite different than the west coast although the sand looked the same. But way more people on a much smaller beach and the pier was lined with shops and restaurants so you couldn't even see the ocean. I took some pictures but had to replace my phone when I was home recently and don't have access to them, dang. I ended up walking down the beach to a restaurant that had a deck on the sand and…fresh Maine lobster. Elvis even showed up and danced for the crowd. I think he was an escapee from a nursing home with a really bad wig.
Trying to figure out where to store the RV while I flew home from Boston was not looking so good until I did a search for park, stay and fly and found a Red Roof Inn that not only had that program but also room to park the RV. After I told the manager about my mission he waved the $5/day fee for the additional time I needed to leave the RV there. Totally cool. I also got two checks in the mail when I got home from medical administrators that I met while in the New England area the last week I was on the road. And two complete strangers, one at a grocery store and one at a campground asked me about ALD and each stuffed a $50 bill in my hand to help with gas. Also totally cool.
I flew out of Boston to Illinois and attended the ULF (United Leukodystrophy Foundation) conference for my 7th year. They had recently covered my mission in their quarterly newsletter and it was great to have that acknowledgement. It was also great to hear from the ALD specialists from around the world about the research advances and possible new therapies and visit with the doctors and families I've come to call friends over the years. One of the doctors who was so instrumental in helping me after Sawyer's diagnosis, Dr. Charlie Peters, was there after a two year hiatus. He is a pediatric oncologist who specializes in bone marrow transplant for boys with ALD. His jaw dropped when he saw me after learning about my mission and after we spent some time talking, invited me to co-author an article for publication in the Journal of Pediatrics with the hope that we can elevate it to CME (continuing medical education) level. I sure hope that comes to fruition.  I am sad to say that since the conference the ULF has lost two key players. Janet Reed, a board member and Ron Brazeal, co-founder and Executive Director. They will both be missed.
From there I flew home and after only one day of rest drove up to Gina Cousineau's home in San Clemente, the founder of BAHBAD, the  Be A Hero, Be A Donor foundation, inspired by the loss of her son Evan to ALD after transplant, for the first collobarative meeting of 7 other ALD organizations from around the world. Quite an honor to be involved and we are now forming the ALD AMN Global Alliance so that we can have a louder voice, a more focused unity for raising funds for research and of course, where I come in, awareness. The organizations are BAHBAD, Fight ALD, the Myelin Foundation (founded by Lorenzo's dad) and Cure ALD all from California plus Stop ALD, ALD Life from the UK, and the Australian Leukodsystrophy Support group. An honor indeed to be associated with these organizations.
That was a two day event and the following weekend I had a Fight ALD booth at the grand opening of the Green Flash's new brewery in Mira Mesa. They are one of my major fund raisers through their anniversary beer festival events and it was great to see their new facility. I am excited for their first anniversary festival coming up in November. More info to be posted as it comes available.
Stone Brewery, my biggest supporter and brewer of Sawyer's Triple and my husbands employer also raise money through their annual anniversary celebration. Their 15th anniversary was celebrated on August 19th and 20th, a two day event this year. I volunteered to pour beer on the 19th and geez those fans kept me so busy I could hardly come up for air. For the main event I had my ALD Awareness booth and brought volunteers to pour beer. It was awesome, as usual, and I anticipate was quite successful. It totally wore me out and I was not looking forward to having to wrap up all my last minute details Sunday before flying out on Monday, but managed to get everything accomplished.
Lots of work goes into each and every one of my trips and planning this one was one of the most difficult. I was feeling a lot of apprenhension about even attempting to go to the major cities in the New England area, Boston, New Jersey, New York, etc. and now that I was here for Irene, can't help but wonder if my intuition was trying to tell me something. More about that later.
See, I told you this was gonna be a long one. I flew back to Boston on  Monday, August 22nd and got right back at it on Tuesday. Most of my visits over that first week were quite successful. I even got invited back to talk to docs and nurses at one of the Urgent Care facilities. All of them had heard or seen the Lorenzo's oil movie, but none of them actually knew anything about ALD. So sad, but again that's why I am out here doing this. At least they are educated now. That happens now and then and every time I am alarmed to see the surpirse in their faces when I tell them the statistics. Still wish I could elevate this to a larger scale through the media. You'd think now that I have been to something like 2000 facilities across 45 states they would take an interest. I've tried to get the associated press to cover the mission, but no luck. That won't keep me from trying, however.
Parking in downtown Boston was impossible so I ended up having to abort the 5 stops I had scheduled there and start focusing on getting out of the path of the hurricane, if at all possible. Also impossible was camping. The one place I did find was so remote they only had water, no other utilities and I don't have a generator. I really need electricity to stay connected to the world via my phone and computer and also for primping in the mornings so I don't look too wild on my rounds. By the weekend all the campgrounds had been closed because of the storm, anyway. Not sure what to do or where to head I just continued on my rounds for the remainder of the week and stayed in hotels and kept the news on round the clock. I got a room in Brockton Friday night and had planned to get up and drive west to get away from the coast but as the path of Irene was updated realized the eye of the storm was expected to go further ashore and reak havoc on the exact area I had planned to go to. I lucked out that Brockton ended up being probably the best location I could have been in. It sat up on a berm so no chance of flooding and by the time Irene hit, had been downgraded to a tropical storm and the winds never really got over 76 mph. It was still pretty scary I have to admit.
I stepped out front to buy a Sunday newspaper when I heard three loud booms and then the electricity went out. The wind had blown some trees over on the power lines and the transformer blew. I had thought ahead and bought stuff for sandwiches, water and wine and packed a cooler to keep in my room. I also had a flashlight and a candle so I was a little better off than some of the other guests.  But after holing up in my room all afternoon I stepped out to this scene right out of The Shining. Talk about creepy. It was so quiet I thought everybody had left and I was the only one left until I walked down to the lobby. This is what the storm looked like from the back door of the hotel. http://youtu.be/HZDf7qnFKqo
By Monday I was still in the dark and knew I needed to give all the businesses at least one day to get up and running before I started my rounds again. I located a KOA campground that was somewhat near my next destination, E. Providence, RI that was open for business and decided to head there. I became quite emotional seeing the damage from the storm.
 This was just a couple blocks from the hotel. I'm not sure what the fake goose is doing out there, but you can see the tree in the middle of the street and downed wires all along the sidewalk and crossing the street. All I could think was I hope nobody got injured. On my way to the KOA I passed a sign that said Cape Cod 31 miles which wasn't a lot further then where I was heading and since I had the afternoon free decided to go check it out. A lot of businesses were still boarded up but I managed to find a restaurant to have traditional fish and chips and a campground in Plymouth that had electricity.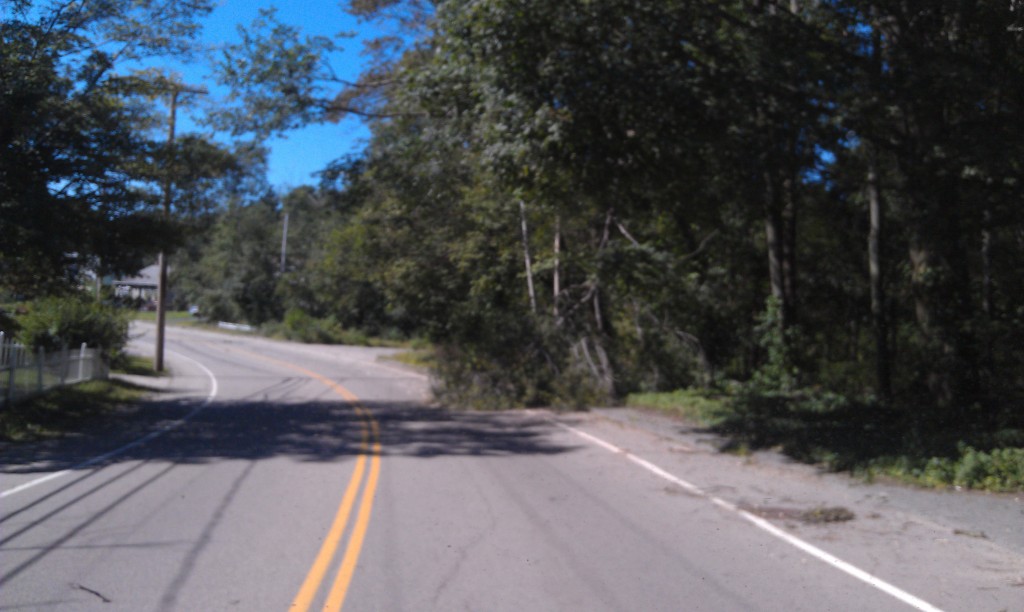 I saw quite a few more downed trees and the campsite was pretty messy.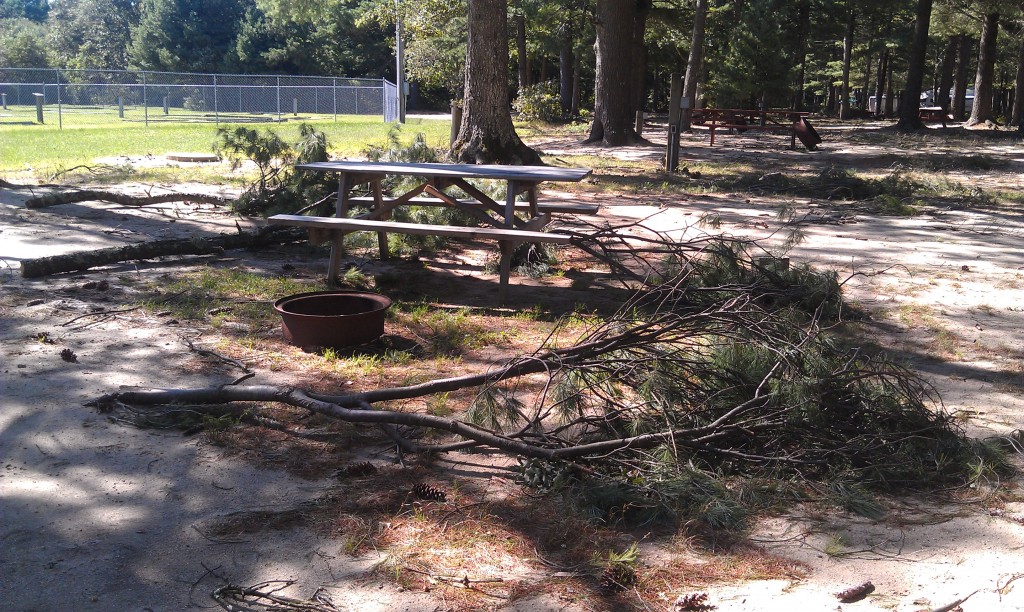 Tuesday night I found a campground that claimed on their website they did not sustain damage and were still open so I headed there. When I arrived at 4:30 there was an OPEN banner waving out front but the office was clearly not openand there were only a handful of campers. I called the number I had for them and left a message. I hung out for a while but noone ever called back or showed up so hit the road for another campground down the road. Well it would have been down the road had my GPS taken me to the right address. It too was closed and after calling a couple more with no luck decided to head to a hotel. It was now after 7:00 and I was getting pretty tired of driving around. I stopped at a Comfort Inn only to find out they didn't have a vacancy. So I drove down the street to a Quality Inn, also booked. Now I started getting a little nervous that I wouldn't be able to find a place to stay with all the power outages across the area so pulled over and did a search on Travelocity. The only room coming up showing availablitily was a Fairfield Inn in Milford, CT still a bit of a drive so I booked it online just to be in sure. It was a beautiful suite and was $138, alot more than I wanted to pay, but I felt like my hands were tied. So far every hotel I've stayed at has given me discounts because of my mission but since I booked this room on line, I didn't even ask. However, I told the front desk clerk about my mission and left a brochure with him and when my bill was stuck under the door the next morning discovered he gave me the room for $98.
After Providence I headed back into Massachusetts and observed such devastation from what I found out was a tornado they had on July 1st and then getting hit with Irene. This is where I was originally heading to get out of the storm so I was really relieved I changed course when I saw this.
Now they are expecting more torential rains and flooding. I just saw pictures of the damage in New Haven on the news which has been declared a state of emergency by FEMA. I will be in New Haven on Wednesday. Totally unpredicatable weather patterns this entire year, every where. I hope next year will be kinder to me and everybody else, for that matter. I'm spending my holiday weekend here in East Hampton where we were withouth power all Friday and Saturday, and part of Sunday and am glad to finally be able to get my post completed.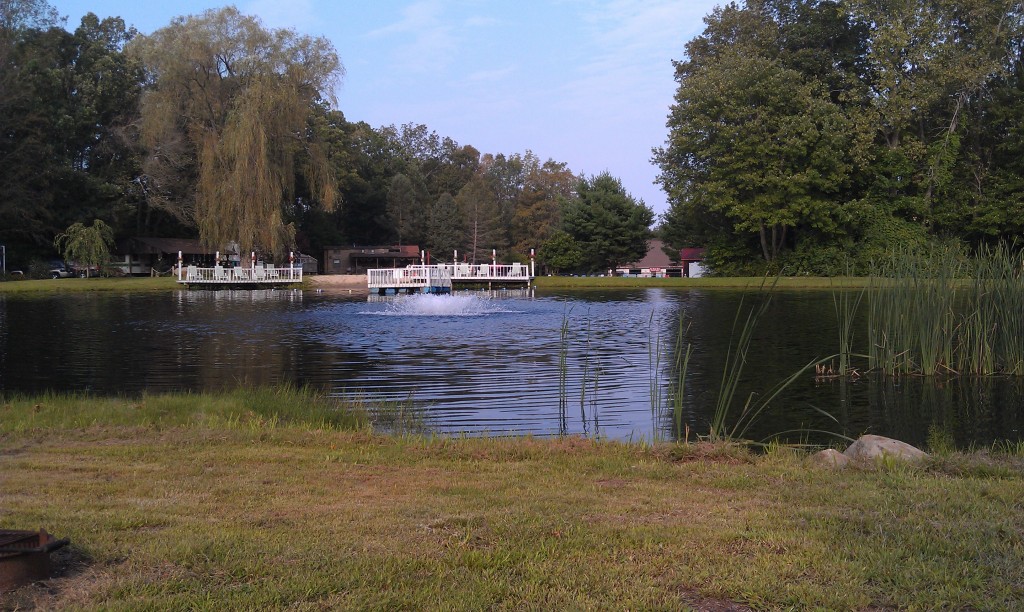 I'll update again before I head home at the end of the month.