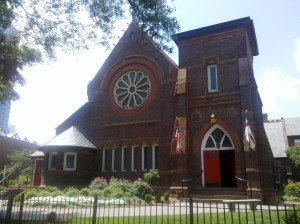 For some reason I can't put captions in with the pictures without it screwing up the entire post. So the first one is of a church smack dab in the middle of downtown Charlotte that I thought was quaint amid all the hubbub of the banking district. Second and third are sculptures at the park I mention later. The brick one has children camouflaged in the brick playing on the wall. Very interesting. And the skull, well that is quite interesting also. The others are of the weather which you will read about later.  
What a terrific couple of weeks I have had since my last post. Hit Charlotte and tore it up. Distributed my brochures to 52 facilities, an all time record for one city. In fact, I have been to 263 since setting out this year which will put me around 325 for this leg alone. The first year of my mission, in 2009, I only went to 600 facilities, but this area is so much more densely populated that I can sometimes reach 15- 20 in a day. 
On May 5th in Charlotte I picked up my friend, Kelly Smith, midday and she rode with me to several stops including the two Children's Hospitals. Afterward I went to her apartment and met her husband Ant, whom many of you know through Facebook. He is an adult with X-ALD with cerebral involvement and just underwent a bone marrow transplant at Duke University Hospital in Durham in February. He has surprised and amazed his wife and his doctors with his recovery although he still has a long haul ahead. It is always so nice to meet up with other affected families along the way and I already felt like I knew Kelly and Ant as I have followed their inspirational story since last year.  
That evening I picked up my husband, Bill, at the airport and we had such a wonderful time together over the next 4 days. Charlotte really is a beautiful city and we were able to camp fairly close at the Fort Mill, S.C. KOA. We went to the annual Bourbon, Beer and BBQ (and cigar) Festival on Saturday and talk about free flowing booze! There wasn't a very large selection of beer or BBQ, but every kind of bourbon imaginable plus vodka, rum, tequila you name it. In unlimited quantities. We have never seen anything like it. Since the light rail didn't run to that event we drove the RV and so really had to pace ourselves. Amazingly enough we didn't even see any really intoxicated people. They could never pull that off in Southern California, haha.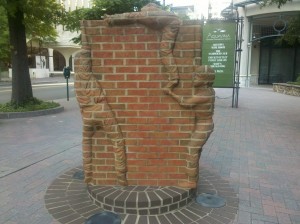 Sunday we caught the light rail and went to Macs Speed Shop BBQ and it was hands down the best we have ever had. We shared a combo plate and sampled all the meats and even tried the fried jalapeno pickles. Yummy! Ribs were the bomb! We then went downtown and walked all over the place, trying to walk off all the calories from lunch. The architecture was outstanding. The Hearst building was awesome but too massive to get a photo that would do it justice. There was a 1 1/2 acre park amidst it all with fountains and scultures (see photos). Downtown Fort Mill was quaint and we went there for dinner twice. We also just spent time together cooking, playing Backgammon, and just hanging out at the campground. I made Bill a delicious Mother's Day brunch on Sunday, LOL. They had a bar at the KOA that all the locals hung out at. We talked to a couple of the employees about my mission and they said they were going to hold a fundraiser. I haven't heard anything since I pulled out Thursday morning, but they said I wouldn't have to be there. We'll see if they follow through.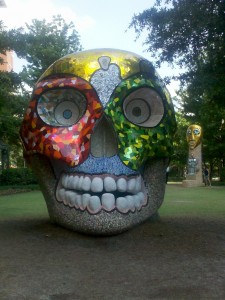 Bill flew out bright and early Tuesday morning (had to get up at 5:30) and I  continued my visits in Charlotte through Wednesday.  I had e-mailed News14 before I even got to Charlotte and they responded asking for my full itinerary while in the city, which I sent. However, I still had not heard back by Thursday morning so I called and lo and behold, they had me come to the studio that afternoon and they taped an interview. They were also interested in adding more to the story and wanted to talk to other affected families in the area so I of course gave them Kelly and Ants info along with another family who recently uprooted and moved from Oklahoma to Durham so that two of their three sons, all with ALD could go through transplant. Unfortunately, their oldest son isn't a viable candidate because of progression of ALD before diagnosis. That family is a classic example of why I am out here getting this information in the faces, I mean in the hands of the medical professionals. I hope to hear from the producer at News14 this week to learn how the story is coming along and will keep you updated. I felt like it was the best interview I have ever given and I have high hopes that this will propel ALD into the spotlight it so drastically needs and deserves.   
Oops, almost forgot to tell you. I forgot my map with the original route in the RV over the winter and when I got it out to start working on my next leg realized that I had inadvertently changed the route which should have taken me to Children's Hospitals in each of these cities, Greeneville, S.C., Asheville, N.C. and Johnson City, TN so I went back to the drawing board and added them and some other facilities along the way and I will now fly home from Charleston, WV instead of Pittsburgh. My updated itinerary is on the website blog. I just couldn't see veering off my original goal of 215 Children's Hospitals and it wasn't that difficult to make the changes since I was still somewhat in the area. Plus if there is one thing I have learned since embarking on this mission, it is to be flexible.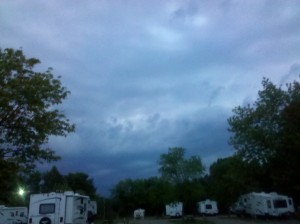 So my last night in Charlotte there was another severe thunderstorm warning and this picture shows the sky in the evening. I was woken up about 2 AM by what seemed like thousands of flash photographs being shot at the RV from every angle and a low steady rumble of thunder. Within minutes huge streaks of lightening were shooting from the sky and as I started to count them out to estimate how far away they were, CRACK! Ear splitting and way too close for comfort. I had the news on and they were saying stay low to the ground, away from windows and just because your cars are sitting on rubber wheels they are not a safe place to be. Oh great! Also that egg size hail and power outages were being reported across the county. Oh shit! Then a huge gust of wind blasted the RV rocking it back and forth. Oh @#$%! It lasted a while before moving out of the area and needless to say, I didn't get much sleep.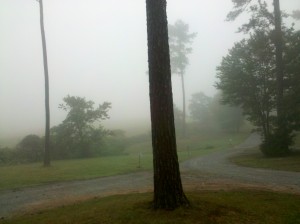 After leaving Charlotte I went to Gastonia and then back into South Carolina to Spartanburg where I camped for the night. No more storms but hot and 100% humidity. This is what the atmosphere looked like at 7:00 in the morning. Steamy, although quite cool at night. Down in to the 40′s actually. I am now back in North Carolina camping in Swannanoa, just outside of Asheville, and it is Sunday afternoon.  Tomorrow I will head to Johnson City, TN, Tuesday Virginia and West Virginia by Thursday afternoon. I fly home late Friday afternoon and will have a very busy and fun time with family and Amanda's high school graduation so I probably won't be posting again until I'm back on the road again, unless to announce the News14 story of course. I fly back out June 13th and plan to attend the ULF conference July 15-16 and the first ALD Collaboration meeting with many other ALD organizations from around the world in San Clemente July 18th. I will post my itinerary for the next leg as soon as it is complete. Thank you all for your continued support of my efforts. What a ride this has been and will continue to be until there are no more ALD boys slipping through the cracks!